Reiki – the Japanese way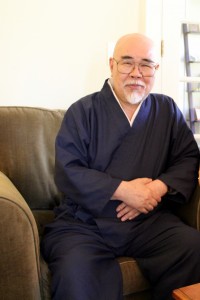 Take advantage of this rare opportunity to study with Hyakuten Inamoto, the founder of the Komyo Reiki Kai system (Japanese-style Reiki.)
Mr. Inamoto is a Japanese Buddhist monk who lives in Kyoto, Japan and his practice reflects his direct training and understanding of how Reiki Ryoho (Reiki Healing Art) was traditionally practiced in Japan. He is an internationally-known authority on the history and practice of Reiki. Mr. Inamoto captures the spiritual wealth of Reiki and gracefully offers it to his students.
This weekend immersion begins with a public talk and presentation on the history and practice of Reiki. One full day is spent giving a review of Shoden (First Level) and Chuden (Second Level), and another full day is spent giving in-depth training in Okuden (Third Level) concepts and practices.
Okuden is for those who yearn to develop inner spiritual growth. This is the doorway to the spiritual path or "Inner Teaching" where spiritual cultivation and upliftment leads us towards living a healthy, peaceful, prosperous life—in other words, a happy life!
After receiving Reiju (attunement), you will be given the fourth symbol, its meaning and usage.
Location
Self Discovery Center
1315 South Ponce de Leon Ave.
Atlanta, GA 30306
404-663-6824
Schedule
Public talk: Friday, November 1, 2013, 7:00 pm to 9:00 pm
Shoden/Chuden: Saturday, November 2, 2013, 9:00 am to 5:30 pm
Okuden: Sunday, November 3, 2013, 9:00 am to 5:00 pm
Fees
$595.00: for practitioners certified in Komyo Reiki Chuden degree or above
$650.00: for practitioners certified in Western Reiki Level II or above
$250: for practitioners previously certified as Komyo Reiki Kai Shinpiden from Mr. Inamoto (re-sitting fee)
$20: for people attending the public talk on Friday night who are not attending the weekend training
Training includes access to the Friday night public talk, the Komyo Reiki Manual and a certification of completion.
Note: In order to be certified as a Komyo Reiki Kai practitioner, completion of other practice prerequisites with a certified Komyo Reiki Kai Shihan (Teacher) is required.
Prerequisites
The prerequisite for this training is completion of Chuden (Level II) of Komyo Reiki Kai or Western Reiki Level II or above.
Payment options
To pay by check, make it out to Dana L. Young and mail to the following address:
Dragonfly Reiki Healing Center
c/o Dana L. Young
407 W. Ponce de Leon Ave.
Decatur, GA 30030
RE: KRK Weekend Immersion
For information on using PayPal or other credit card payment options, send an email message to Dana Young.
Deposits and refunds
A non-refundable $200 deposit is required by October 1, 2013 to hold your place. Full payment must be received by October 31, 2013.
For more information on Komyo Reiki and Mr. Inamoto, please visit www.komyoreikikai.org. 
Read about our Sensei's visit to Atlanta in March 2012.